---
Totallyamaha Expert X Review
First Look at the Expert X:

Click Image to Enlarge
Last Updated: 07/15/07
First Look
After unpacking, our first impression was "wow", this think doesn't look like anything we have ever seen before. It reminded us of a custom build skid with it's many precision-machined components. The Expert X has some serious engineering, billet rails, swing arm look, dual shocks, and 4 easy adjustments to refine your ride that makes it very appealing.
Installation
The Expert X was fairly easy to install. After making a few measurements, marking the first hole position and removing the stock middle brackets, the suspension was in our test machine. After installing in both a RX1 and a SXR we spent an average of about 3 hours from start to finish on the each install.
When installing most high performance suspensions during your initial tuning pay some attention to the front of the sled as well. In some cases a change in the spring preload may be necessary to handle the corners.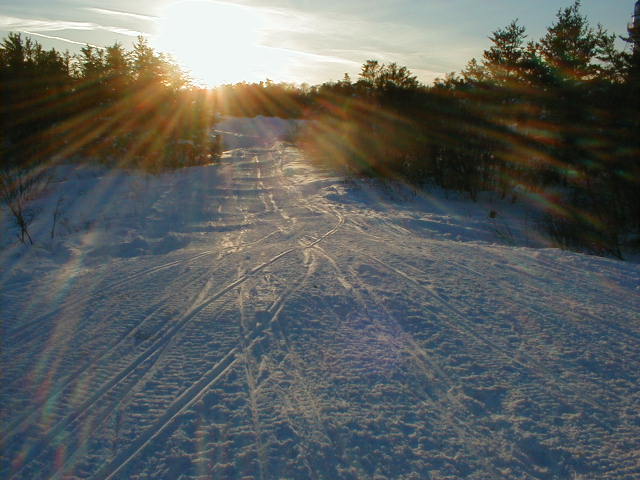 The ride
With the recommended stock settings for our weight and riding style we took the Expert X to the lake for some short blasts across and our first impression was "WOW Hang On!!!" This thing has some serious weight transfer.
On our next ride we looked for some 6-12 inch stutter bumps. At low speeds the 6-12 inch stutter bumps all but disappeared. When speed increased the stutters were more noticeable causing a choppy feel but no loss of control. We then proceeded to find some big bumps; we came across some 12-20" moguls, about 2 feet apart. At moderate speeds a noticeable kick was felt bumping us from the seat however no loss of control was observed. As speed increased the noticeable kick became less pronounced and control was still very well maintained.
As testing proceeded, we noticed a lot of body roll during normal trail riding, this was attributed to the large amount of weight transfer causing the rider to have to let off the throttle and coast through the turn.
To address the issue with weight transfer it was recommended to make several adjustments, although adjustments were made we were only able to reduce the ski lift. See pics below for good to extreme weight transfer that you can expect from your Expert X.
Expert X Pros and Cons
+ Hyfax wear very good

+ Infinitely adjustable by weight or style

+ Adjustments cane be made on the trail quickly

+ Control

+ No loss of acceleration

+ No noticeable loss of top speed

+ Good weight transfer

+ No issues with track ratcheting

- Difficult to control the weight transfer

- Not Shock Options

- Issues with track slap**

- Bottoming Issues***

- Holds snow and ice
** In our testing we have noticed quite a bit of track whip under hard breaking conditions, causing excessive scaring with traction products. This scaring is occurring in the tunnel above drive cogs and in the front of the tunnel above the front heat exchanger. If you are running traction products and a loose track, we recommend adding tunnel protector extensions (tubing, channel or PVC) the same height as your standard protectors or a new 1" full-length protector from the front of the tunnel all the way to the rear. The stock tunnel protectors stop at the drive cog. These tunnel protector extensions will give you the added protection above the drive cogs that is needed with traction products. (These must be made, not available to purchase)
See attached pictures of extra protection explained above and note the scars in the tunnel from no protection.
***If you are noticing bottoming under high speeds hitting big moguls make sure you over load springs are set in the lower notch with the brass bushing. Ours Expert X came with them in the upper spot causing the skid to crash with heavier riders (See Below).
Summery
In comparison to the Pro-Action the Expert X is far superior in ride and control!
Although there are several adjustments to change the ride characteristics we were unable to achieve an overall trail ride setup that we were happy with. However the ability to maintain control over all conditions we tested still left us with a high opinion of the expert X.
In our opinion this Expert X is designed for the aggressive to extremely aggressive rider looking for more of a race/trial suspension.
Expert X Bulletin
The information explains some hairline fractures that may occur in your rails. Bulletin issued for 02-03 season.
Expert X Riders Set Ups
Expert springs at 3
shock position at 1 to 1.5
weight transfer gap at 1/2"
threads past nut on transfer arm at 1/4 - 1/2"
Test Riders Quotes
"For hard riding, the expert and its dynamic stopper is the way to go period."
"I Have the Expert x and I am happy with it, great transfer, almost too much. Very easy to adjust, easy on hyfax, well built. The only drawback I do have is it holds a lot of snow and ice and can become heavy with it."
"Sucks the bumps up and still maintains control"
"An aggressive riders preference."
Special thanks to Neal Warling for letting us stay and test at his place in Paradise MI.
"Check back often for more Info."
All the information in this article is based on Totallyamaha's test results and opinions of Totallyamaha.com and its members. If there is any other information you would like to add from your own experiences with either of the test suspensions, feel free to email the webmaster@totallyamaha.com
Totallyamaha is not responsible for any damages that these modifications may cause to your vehicle; any modifications are your responsibility if you choose to do so. We are providing information ONLY. Some of these modifications may VOID your warranty and that is your responsibility to look into. The Totallyamaha users have passed along most of the information found on this site. If you have any questions or concerns about anything on this site talk to your dealer before using any of the information. Totallyamaha will not be liable for any damages or personal injury from any modification performed from this site.