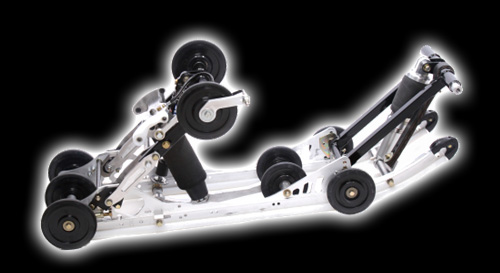 Last Updated: 04/27/10
First Look:
We thought the M10 suspension was made well... WOW. When I opened the box on the Airwave I was very impressed with the engineering of this suspension over the standard M10; stamped rails, parallelogram geometry, air bag manual adjust version center shock, heavy duty on board controlled rear air bag with Fox Zero pro to help control motion. Over all very easy to manually set the air pressure on the center shock and quick on the fly adjust for the rear setting. As always the initial setting for rider weight was very crucial with 3 1/2 to 4 1/2 of set in. Once everything breaks in 5 lbs changes make a huge difference.

Installation
Over all the installation was fairly easy compared to the other M10's that we have installed in the past. See Airwave installation for more info. Always expect to do a little grinding and stock bracket relocation to mount your new air ride. Time needed to install is about 2 to 3 hours.
When doing your initial tuning pay some attention to the front of the sled as well. In some cases a change in the spring preload may be necessary to handle the corners or in our case front shock air pressure. Remember this skid will raise your center of gravity requiring more body English to make the corner.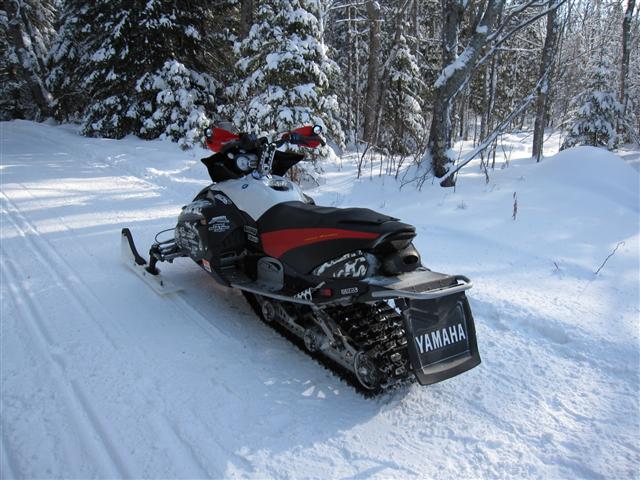 The ride
With the air settings for our weight and riding style our first impression was "Why is this thing so stiff", every bump except for the monster moguls were easily transferred into the driver. We found when new everything was very stiff and needed time to break in. As our test day progressed and the air in the shocks heated up the suspension and smoothed out the trail nicely to leave us with a smile on our face at the end of the day.
As stated above the monster moguls (12-20" moguls, about 2' feet apart) easily were absorbed into the skid and chassis with very little feedback into the driver. Again the harder you worked the suspension the more it took.
The biggest down fall I found with this skid is loosing air over non use time. Within a day or 2 of non use the air would drop 5 lbs. In order to get consistent ride quality you need to check the air pressure manually in the center shock and watch the pressure gauge from day to day. Take special note to your pressures settings or you will start every day as if it was the 1st time on the skid again.
Another issue that came up in our high speed testing was that the suspension would collapse under hard acceleration. More air pressure would be needed to prevent this as well as having the oil in the fox pro changed.
M20 Pros and Cons
+ Hyfax wear ok (about average)

+ No noticeable top speed loss

+ Good weight transfer

+ Infinitely adjustable air for rider weight

+ Exceptional ride and comfort after break in

+ Control

- Needs excessive initial break in period

- Loss of air pressure

- High center of gravity

- Track ratchets easy unless track is super tight

- High speed suspension set-in
Few notes about the pros and cons.
These results are based on the single sled tested.

Ratchet was only experienced on the test sled maybe due to the increase in HP and Torque from the installed Supercharger.

Loss of air pressure: While this is an irritating problem we have found that it can be corrected with some diligence. Even after making sure all the fittings, gauge, switch are leak proof there is still a possibility of a leak at the compressor itself. This is easily fixed by installing an inline check-valve from TeamFAST. This was not provided with our kit.

High speed suspension set-in even though is a con can be easily resolved if you are aware of your pressures and have made the upgrade to the better oil in the rear fox helper shock.
Summary
Overall we are extremely happy with the final setting and ride quality compared to its predecessor in all trail conditions. I could finally feel good about saying that this sled is like riding a cloud. But it takes some work to get that perfect balance. Please be patient with this skid, you will be very happy with its final outcome.
"Check back often for more Info this next 2010/2011 season"
All the information in this article is based on Totallyamaha's test results and opinions of Totallyamaha.com. If there is any other information you would like to add from your own experiences with either of the test suspensions, feel free to email the webmaster@totallyamaha.com
Totallyamaha is not responsible for any damages that these modifications may cause to your vehicle; any modifications are your responsibility if you choose to do so. We are providing information ONLY. Some of these modifications may VOID your warranty and that is your responsibility to look into. The Totallyamaha users have passed along most of the information found on this site. If you have any questions or concerns about anything on this site talk to your dealer before using any of the information. Totallyamaha will not be liable for any damages or personal injury from any modification performed from this site.