---
"Head to Head"
M10 verses Expert X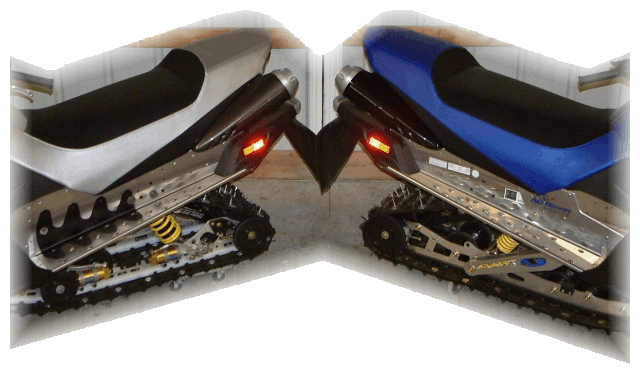 Last Updated: 07/15/07
The following is the results of Totallyamaha's Head to Head comparison of the Fast Inc. M10 and the A.D. Boivine Expert X suspensions. Please see M10 and Expert X individual reviews for further information.
M10 Verses Expert X Ratings
| | | | |
| --- | --- | --- | --- |
| | M10 | Expert X | Stock |
| Ease Installation | 5 | 9 | N/A |
| Support | 10 | 3 | N/A |
| Trail Side Adjustability | 6 | 8 | 2 |
| Shock Options | 10 | 1 | 1 |
| Weight Transfer | 4 | 10 | 6 |
| Hyfax wear | 10 | 8 | 4 |
| Small Bump (Low Speed) | 10 | 9 | 5 |
| Big Bump (Low Speed) | 9 | 7 | 4 |
| Small Bump (High Speed) | 10 | 8 | 5 |
| Big Bump (High Speed) | 9 | 7 | 3 |
| Overall Comfort | 10 | 8 | 5 |
| Overall Control | 8 | 9 | 6 |
| Track Ratchet | 10 | 10 | 4 |
| Top Speed | 7 | 10 | 10 |
| Average Rating | 8.5 | 7.5 | 4.5 |
Rating: (1) poor to (10) Excellent
N/A: Does not apply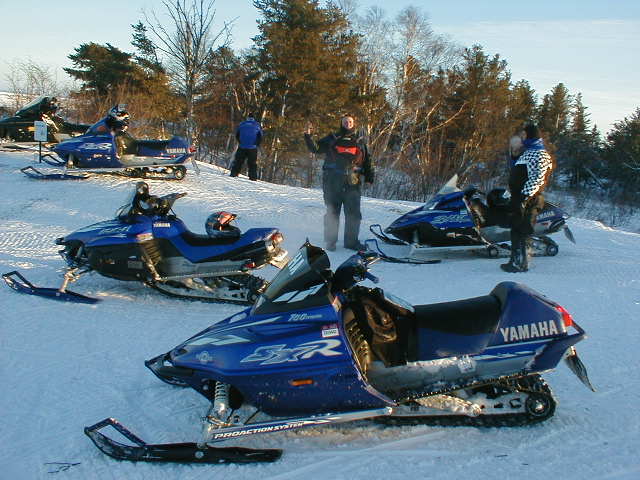 Ease Installation
The M10 installation was more difficult and time consuming, however the setup and trouble shooting guide was very well thought out and helped a great deal in both the setup and tuning. The actual Installation of the Expert X was easier then the M10, but the instructions where less than desired and lacked a troubleshooting section.
Support
Fast (M10) was an easy company to contact and speak with a live technician. The support staff and their suggestions addressed issue usually the first time. AD Bovine was not always easy to contact. Often it took several tries to be able to speak to a live technician and leaving messages did not always initiate a return call. Suggestions given in a number of cases did not resolve the issue.
Trail Side Adjustability
The M10 wrenches that were included with the suspension were difficult to use on the trail when adjusting the FRA. A ratchet type wrench would be more desirable with the standard setup. A jack option is offered that would make this a much easier adjustment on the trail but is an expensive option. The Expert comes with a ratchet type wrench as well as a spanner for spring preload. All adjustment can be easily made on the trail, including weight transfer, ride height and spring pre-load.
Shock Options
The M10 has several shock options from fixed rate standard shock to fully adjustable Ohlins. The Expert is only available with the standard KYB.
Weight Transfer
The stock M10 has no adjustable weight transfer. Changing the coupler block can make some adjustment, however this is not a trailside option. The Expert has a hand adjustable weight transfer knob easily adjustable on the trail. Pictures below will give you a Idea of the weight transfer from one extreme to the next.
Hyfax wear
Hyfax wear for both suspensions seamed far better than stock.
The Bumps
The M10 seams to be able to handle just about anything, however a more aggressive setting handles the larger bumps better at faster speeds. The Expert seamed to be difficult to find the overall good setting to cover most trail conditions.
Overall Comfort
Our comfort rating is based on the ability to ride endless miles with little to no soreness or fatigue. When properly setup the M10 may be driven long distances with very little fatigue. The Expert after a long trip may leave you a little sore and fatigued.
Overall Control
Our overall control rating is based on the ability to keep control over all trail conditions.
Both the M10 and the Expert provided good control over most condition. The M10 did result in a slight ski lift in some cases when cornering hard.
Track Ratchet
With the stock suspension in the RX1 there were several complaints of track ratcheting. We did not experience this in either the M10 or the Expert.
Top Speed
With any aftermarket suspension that increases the ride height of the machine, you will experience some loss in top end. The Expert seams to be very close to stock or slightly better with no noticeable top end loss. In our runs the M10 averaged about a 5-6 MPH loss in top speed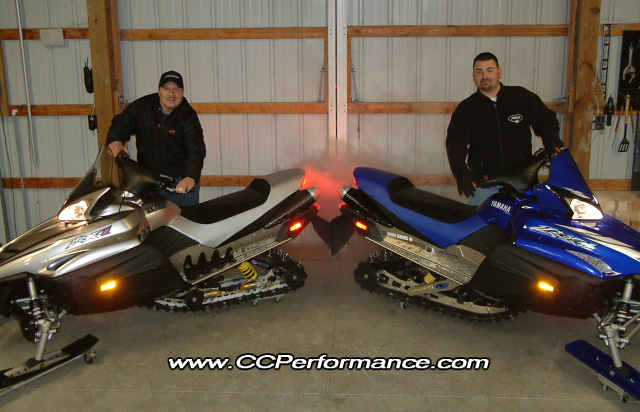 Special thanks to Neal Warling for letting us stay and test at his place in Paradise MI.
"Check back often for more Info."
All the information in this article is based on Totallyamaha's test results and opinions of Totallyamaha.com and its members. If there is any other information you would like to add from your own experiences with either of the test suspensions, feel free to email the webmaster@totallyamaha.com
Totallyamaha is not responsible for any damages that these modifications may cause to your vehicle; any modifications are your responsibility if you choose to do so. We are providing information ONLY. Some of these modifications may VOID your warranty and that is your responsibility to look into. The Totallyamaha users have passed along most of the information found on this site. If you have any questions or concerns about anything on this site talk to your dealer before using any of the information. Totallyamaha will not be liable for any damages or personal injury from any modification performed from this site.