The 1st Annual Manitoba

Canada Ride
Click Thumbnail to Enlarge
The 1st Annual Manitoba ride was so much fun I don't know where to begin. The trails where like flat highways some even had one way trails where you could bare down and have some fun. I have to take my hat off to Brian (SRXTWINS) and his wife Margaret for planning some great riding. And to all the others that came it was a real pleasure to meet and ride with you. Approximately 580 miles in 3 days.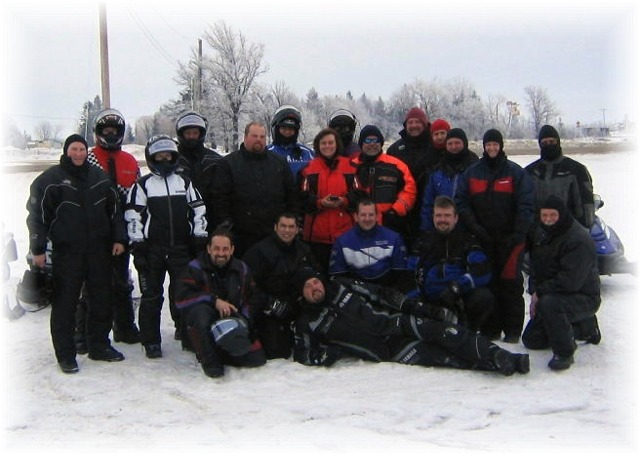 VID LINKS:
Trail ride over view:
Every morning started with a ride meeting to talk about where we are headed and rules...
Then off to the trail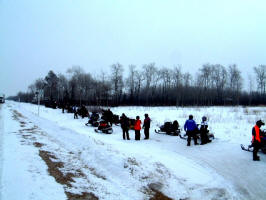 Day One:..left Beausejour and rode to Elma and gassed up from
Elma we rode to Falcon Lake and had lunch.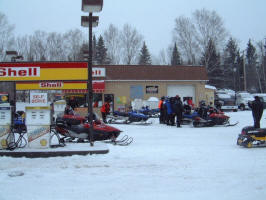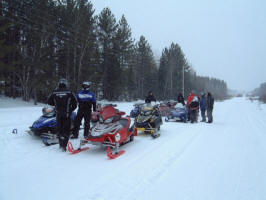 From falcon we rode north through
Rennie on up to Seven Sisters where we had supper at the Tourist Hotel.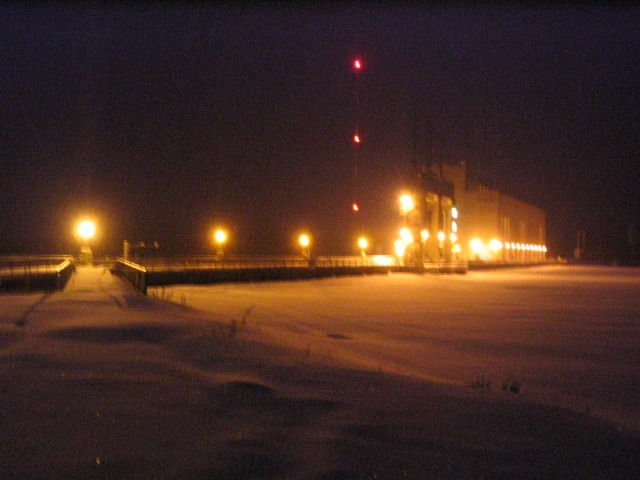 When
we left the hotel we rode back to Beausejour. Aprox: 210 miles

Day Two:... left Beausejour and rode north to Pine Falls where
we gassed up. From there we crossed the Winnipeg river and rode to the warm
up hut known as Camp 29 for lunch of kielbasa .
Shots of Camp 29 Area with Sasquatch showing us some belly....LOL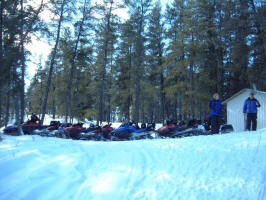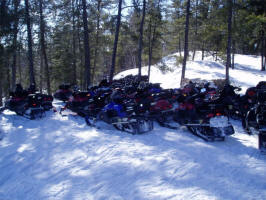 After leaving Camp 29 we rode to Bird
Lake and gassed up again. When we left Bird Lake we rode down through Lac Du
Bonnet back to Beausejour.

Day Three: ...rode north from Beausejour to Gand Marais at this point
we turned and rode across Lake Winnipeg to Winnipeg Beach where we turned
north and rode to Gimli where we had lunch. Had some putine (poontang) and perogies for my very 1st time all I can say is yummy ...good stuff.
Lake Crossing: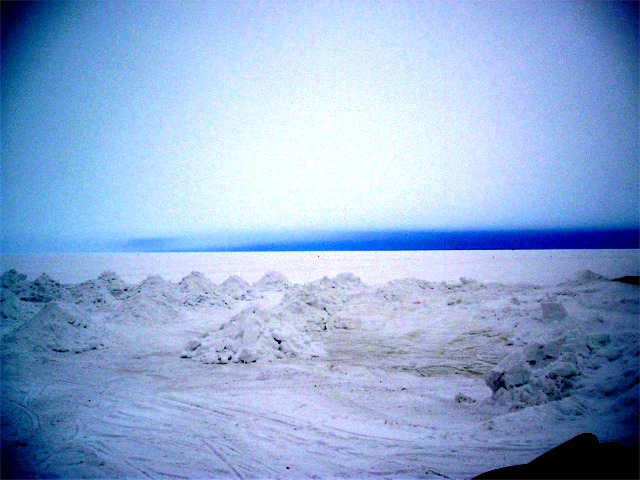 Lunch in Gimli:
Look BountyHunter shrunk.....LMAO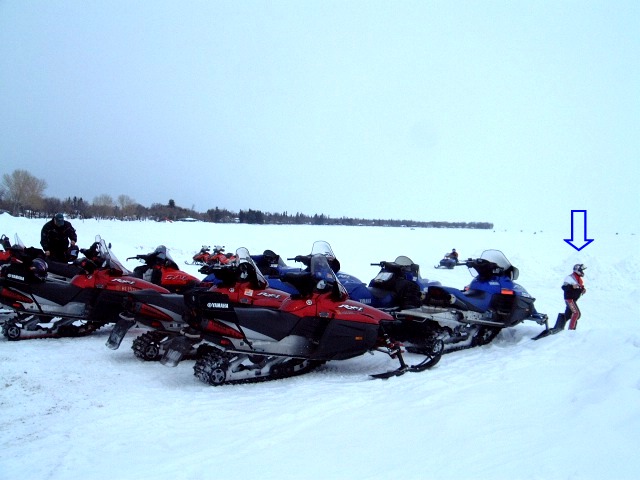 From Gimli we rode down the west
side of the lake to Devils Creek trail which took us back to 59 hwy. We
followed the hwy. to Provincial hwy 317 which took us to the trail to the
clubhouse for supper.....Special Thanks to
Everyone had to show there bellys....LOL ...Great Food will do that to you...
Brain (SRXTWINS) and Snowmobile Club friend....
After supper we rode back to Beausejour for the night.

NOS PRO and Kmer Playing in the power: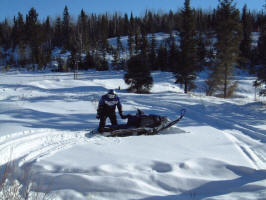 What is that big harry thing....LOL must be a Sasquatch!!!!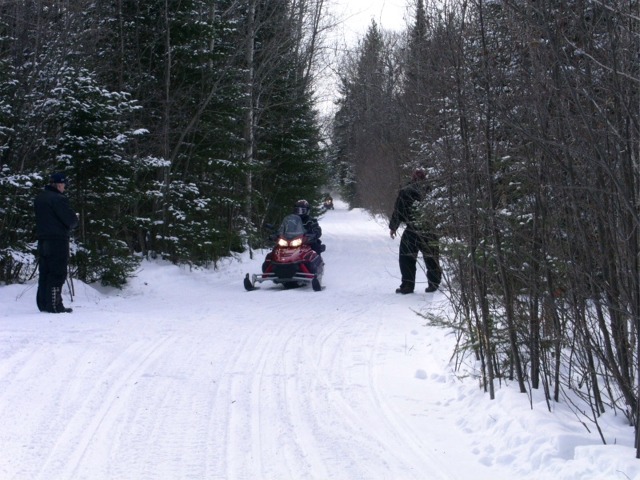 Gas Stop Photos.....and another News Paper take our photo.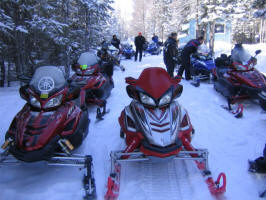 Several Trail Photos.....thru out the 3 days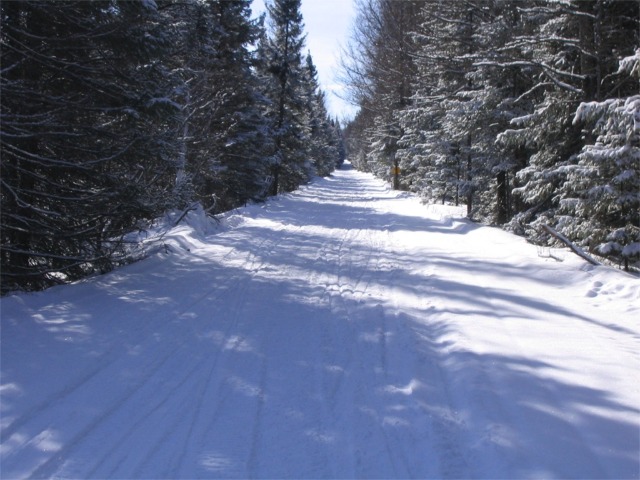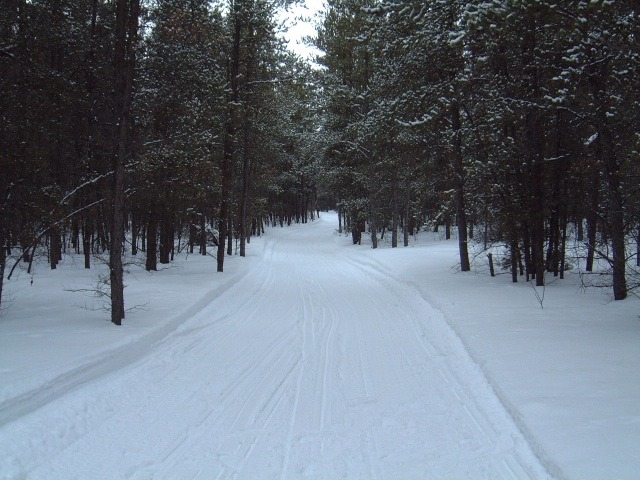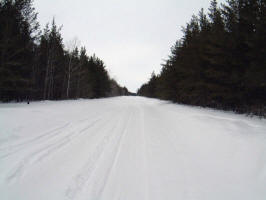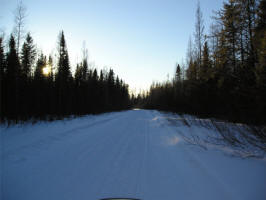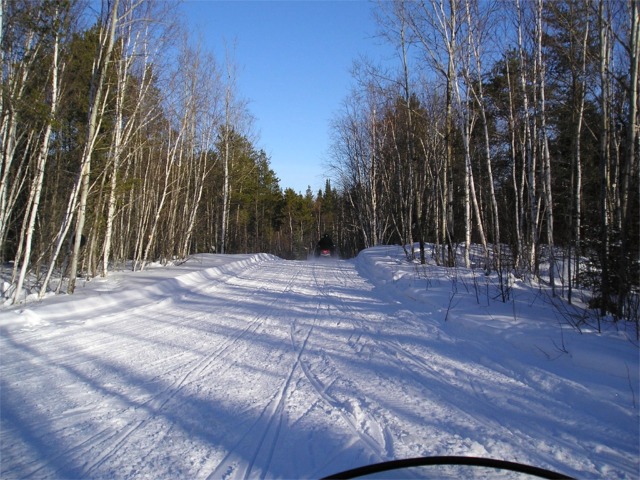 One of the warming housed and some of the Yamaha guys showing how much the love the competition.....
Another Photo shoot.....what a group we had!!!!

NOS-PRO and his famous wheelies...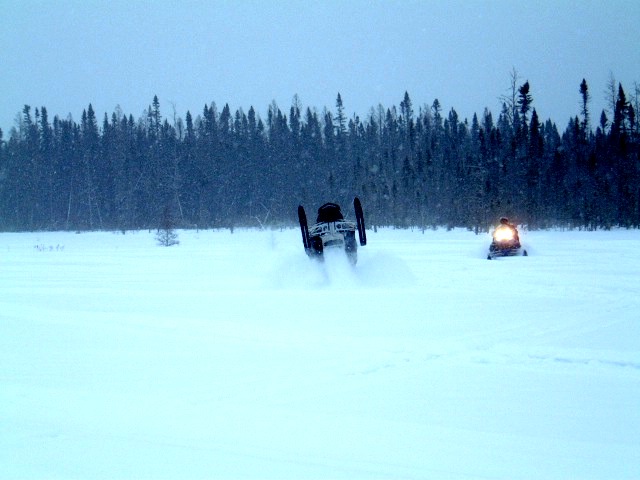 Little NOS and some Turbo and we have ....some POWER....
We saw groomers everyday we rode.....Great Job to the Clubs!!!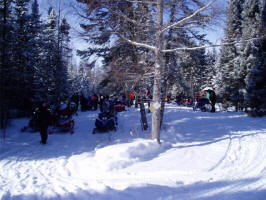 What an awesome picture to end the ride with ...
.
Night life back at the Super 8 Hotel.....time to kick back and have a few.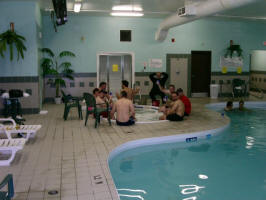 We made it into the local paper...check that out ...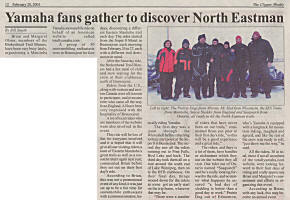 Once again I would like to thank everyone for a great TY ride and we will see you next year for another Manitoba Ride!!!!
< BACK