| | |
| --- | --- |
| The TY Giveaway Ride Munising MI Feb 2nd thru Feb 5th, 2017 | |
to see video click Here
Click on smaller images to enlarge
TY Giveaway Ride went off without a hitch this year. Overall the grooming was greatly improved over last year. Reports from most of the riding groups was that trails were great and the snow was plenty. Once again the Boarders Inn and Suites was full and we nailed it with the raffles by using our past setup with one small change; MSilvers and BGraves walked around selling 50/50 tickets to keep the lines down at the main registration table. Thank you to all the members that came out for this ride. This is set up for all of you that participate on the site as members and especially VIP members who give more than just a registration. Please make sure that everyone thanks the sponsors who are always there for us every year for this event. Yamaha Snowmobiles, Yamalube USA, Yamaha Power Equipment, Pat's Motorsports, Castle X, Alpha Powersport, Thunder Products, Inc.,Barnofparts.com, Evolution Powersports, Bergstrom Skegs, TA Motorsports Inc., Boarders Inn & Suites of Munising, MI, RoczToyz, CrankyApe.com, Dalton Industries, PORT YAMAHA, CB Performance Parts, Ulmer Racing, Biteharder, Excell Motorsports, Dranttel Sales and Service, Lake Effect Snow, CURVE INDUSTRIES - High Performance Aftermarket Snowmobile Products -, Shock Doc - Steve Spiering, MTNViper - Rollover Valves, Bluhmenterprises.com, SnowMoYard, Schauer Power Center, Velocity Moto & Snow, Mukwonago Yamaha, GRIP On Tools, Peter Amato, Scott Marcott, Jason Marcott. Also thank you goes out to yamawheels (Jim Zomchek) and my brother Zombo (Joe Zomchek).
Also, thank those that helped out at the Giveaway: Onlyblue (Todd Kendrick), Viper Dave (David Buckler), Frank the Tank (Stephanie Bornbach), MSilvers (Mark Silvers), Gravedigger (Brian Graves), Funsizegravedigger (Michelle Graves), and Breanna Ammerman.
Also, a great big hug for Angela and her staff at Boarders Inn and Suites/Half Pint Pub. Hope you all had a great time and we will see you on the next ride.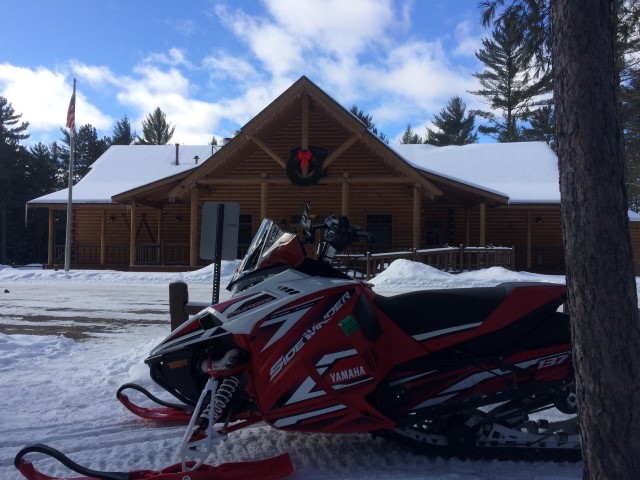 For the Friday ride, I really wanted to venture towards Gwinn to see how the snow cover was there. We rode over there for the last Muni ride and the snow was a bit thin. We also had a ride centered around Gwinn the next weekend after TY Giveaway, so I needed to do a little reconnaissance. I heard mumblings that Marquette Mountain was very low snow and was not going to be fun going over, but I had to take the chance. It was a good thing I did, because the trails were fast and snow covered! Yes, the snow was a bit thin near Gwinn, but they were 100% covered and so was the Mountain. That rumor of no snow must have traveled as we did not see many people all day. We made quick time and ate lunch at the Up North Lodge and headed up to Marquette Mountain. After a few photos at the top, we took a quick run to Lakenenland. From there, we went back through Christmas and headed back to the hotel. All in all it was a great ride on Friday and we made very good time. Traffic was low on the route we took, but we heard that Grand Marais was packed!!
On Saturday, we decided to do a short tourist run. In the morning, we had heard that many of the people who have been coming on the TY Rides for years had not been to the ice caves in Ebon. Since Frank the Tank and I needed to do a short ride in order to get back and set up for the Give Away, we thought this was the perfect opportunity to take a large group to the caves so they could all see it. We had a lot of people with us and they all had a blast. I am so happy that I could share this attraction with everyone. After the cave walk, Frank the Tank and myself headed back to the hotel while the others split off into a few groups to continue their day of riding. Check out the photos below of all of the Give Away winners as well as the Karaoke festivities that started up after.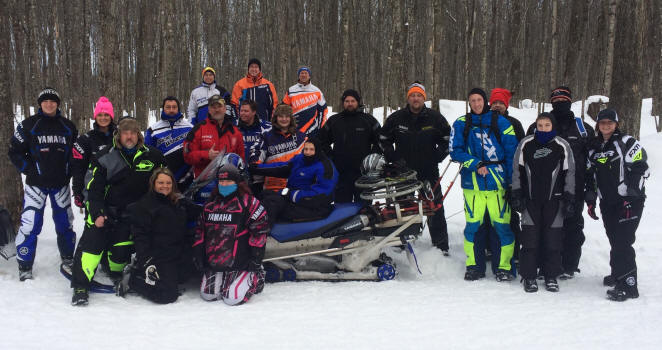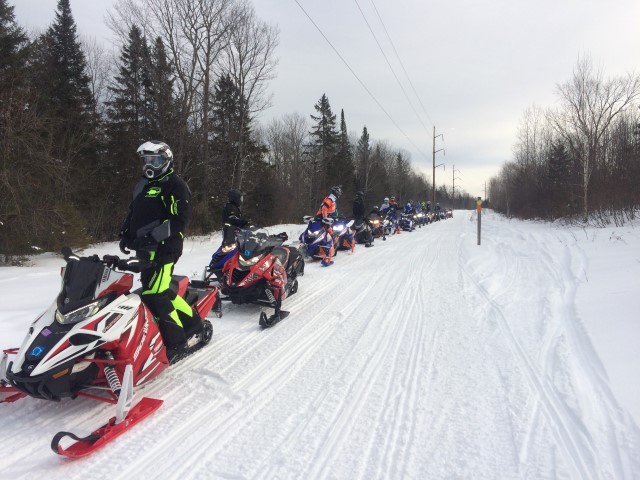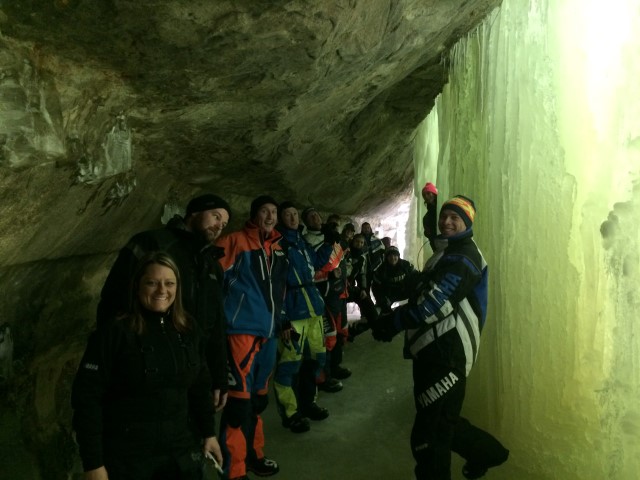 Giveaway time!!
Saturday night Karaoke. We had quite a few new faces singing, and it was a great time!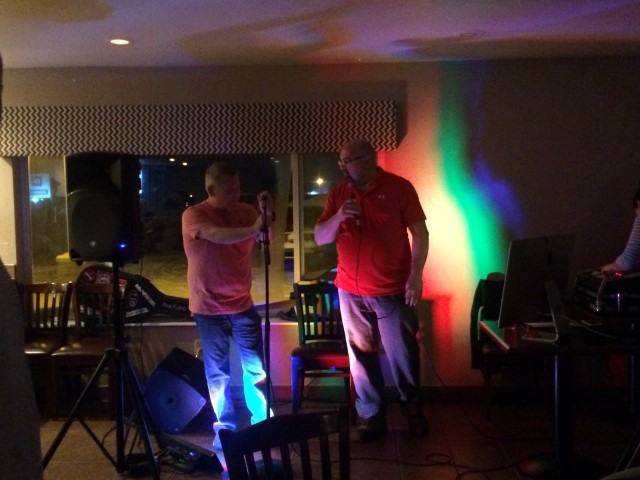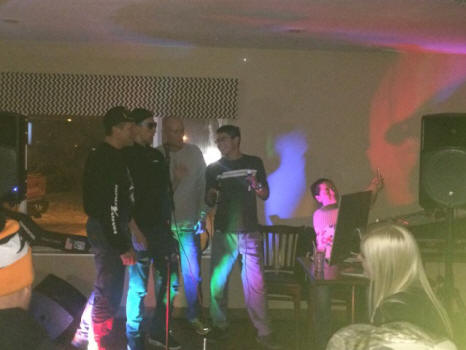 It was a long, and fun night Saturday, so some people decided that it was time to go home. Others went out for some more riding before the Super Bowl later that evening. We started our day heading up to Grand Marais, but once we got past Shingleton into the swamp, it was clear we needed to turn back around. The trails were horrendous and the moguls were 2'-3'. There was no way we were going to continue on that trail. After we turned around, we went down the Hay Wire towards Manistique and got fuel. From there, we went onto the Four Corners and Cook and back up to trail 7 towards the Buckhorn. The ride was outstanding with about a foot of fresh snow until we hit Midway. The trails started to get choppy again at Midway and only got worse from there. We decided to stop for lunch at the Buckhorn, and also to determine our next route. It was clear that the trails were done for the weekend, and so were we. We all headed back to the hotel to wind down and get prepped for the Super Bowl party in the 1/2 Pint Pub later that evening. There were not a ton of people for the party, but it sure was a blast! I think the Super Bowl party may be one of my favorite parts of this whole weekend, even if my team is not in the big game.
Thank you again to everyone who participated, contributed, and volunteered their time for this event. Totallyamaha would not be here without you and we truly appreciate everyone who make this all possible.
A few of the Main Raffle Winners
Thank you once again for all the fun on the TY Give Away ride. It was a great pleasure seeing everyone again and meeting new people. See you on the next ride!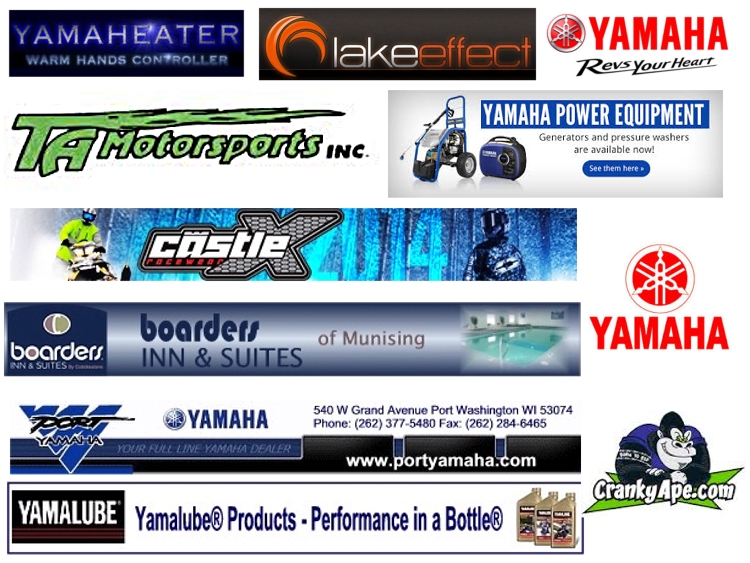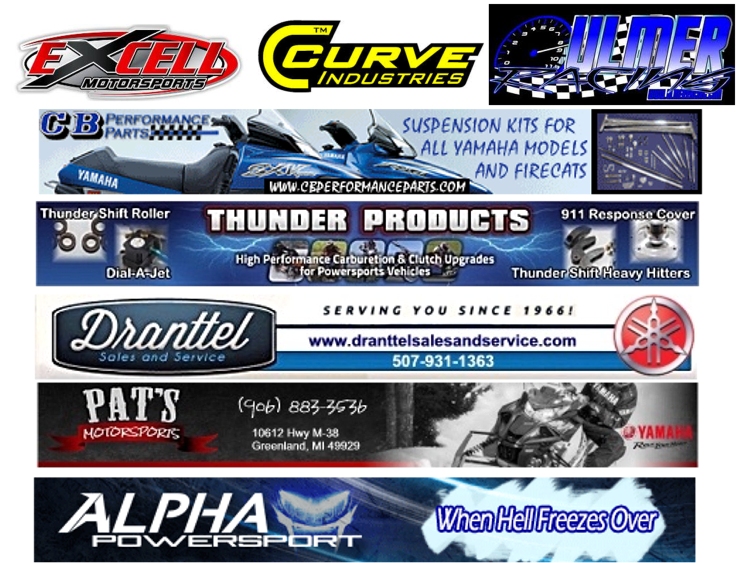 < BACK