Brent Jacque's Mountain Viper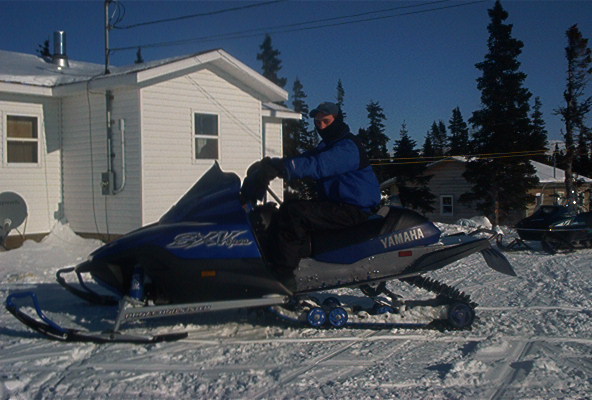 Sled: 02 SX Viper

Nickname: "The Grave Digger"

Comments: "This is one of the best sleds out there on the go! The 144" kit really brings out the 700 in her, no more spinning on the start, and I love the way it climbs! Hats off to Tom Hartman for building this kit! Truly, unstoppable in the snow! Even with this kit, she can still got 155 kph on the speedometer, great speed for a 144". I never had my helmet on when I got the pics done, just my neck warmer! e-mail me at sxviper700triple@hotmail.com if you have any ideas to make her better or faster, Thanks! YAMAHA RULES!"

Modifications: Transfer Enhancement Kit from Ekholm, Blue BJ Hookers, Screens Painted White, Black Sno Slips, Blue Sno Grips, Blue Snow Flap and Blue Sportech Headlight Covers,

144" Long Track Kit by Tom Hartman (Hartman Inc),144" Long "Finger" Track with 2.25" Lugs, 2" Handle Bar Risers, Blue Handlebar cover, Blue Skid Plate, Blue Front Radius and Tie Rod Covers, Blue Shock Covers, Blue Cobra Windshield

We at Totallyamaha thank Brent for sending us information on his sled and hope he will keep checking back with us for more excellent info and more features.