Giasson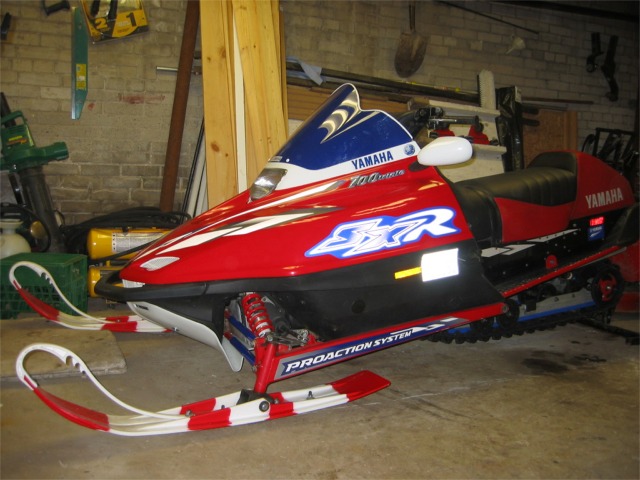 Name: Giasson's
Sled: 1997 V-Max SX 700
From: Kapuskasing, Ontario, Canada
Comments:
This is an incredible snowmobile. 1997 Snowmobile of the year, BIYAAA!!! It was purchased from the dealer 11/14/97 after a summer of drag racing. This sled has plenty of power and handles like a razor. Even to this day newer sleds still have issues keeping up in the trails. It's light, nimble and quick as a rocket. It turns heads and we're looking forward to finishing up the mods and getting another 10 seasons.
Modifications:
-Custom white paint, blue windshield and '01 SX-R 700 decals
-Custom Slydog Trail Skis
-Yamaha Red Snow Flap
-Yamaha White GYT-R Ultra Skid Plate
-Blue slides, new style idler wheels, Camoplast Ripsaw 1.25" Track and Bender TS-3 Adjustable Transfer Rods
Upcoming Mods:
-Super Torquer HC-X Rigid Secondary Clutch
-Boyesen Rage Cage Reed Valve System w/ Reed Spacers
-Thin Head Gasket
-Air Box mods
We at Totallyamaha thanks Giasson's for sending us information on his sled and hope he will keep checking back with us for more excellent info and more features.