LUVSNO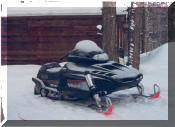 Sled: 92VMAX4
Nickname: LUVSNO
From: Ontario
Modifications: Pretty much stock, 1" camo
track and ski skins are only changes to this sled. It has been maintained by a Yamaha guru in Sebright, Ontario since new. Ran 13,000kms before crank twisted. It has 16,00kms on it now, but I am driving my 98 SRX more now.


We at Totallyamaha thank LUVSNO for sending us information on his sled and hope he will keep checking back with us for more excellent info and more features.