06 Handle Bar Change Over!!
This is a fairly easy change over from the stock bars. As you can see in the pics we removed the light pod to change the oil but is not necessary to do for this change over. You will need to remove the trim ring on the base of the bar riser and remove the panel between the bars and the gauge pod with the 1/4 turn Allen fasteners. Be sure to unplug the key harness and the 12 volt accessory outlet to remove panel completely.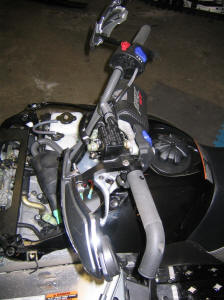 1) Remove hand guard if you have any on the machine. Remove the 2 small Phillips head screws on the under side of the left control (Lights/Dimmer and brake lever side). Pull dimmer assembly towards the back of the sled slightly to expose the 2 Allen head cap screws that will hold the remaining control and break lever to the bar and leave control hang.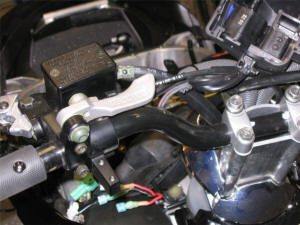 2) Loosen the 2 Phillips screws on the back side of the thumb throttle control side and turn the control as shown in image below. Remove E-Clip from thumb throttle being careful not to loose the washer. Remove pin for thumb throttle.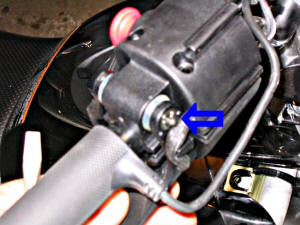 Finishing removing the screws and let the control hang as you did on the brake lever side.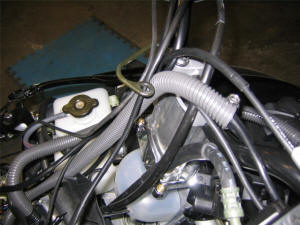 3) Remove the top right bolt on the bar riser and loosen the top left to rotate the cable guide as shown above. This will allow you to follow the wire loom and pull out only the hand warmer wires. See pic below. You may have to cut some zip ties and replace to keep the wire loom in the correct place.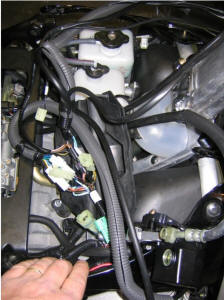 Follow the wires down to the rubber boot where all the main connectors are. Un plug hand warmers( see above pic).
4) Remove the 2 upper riser bolts and loosen the 2 lower bolts to allow you to pivot the bar clamps away from the bars as shown below.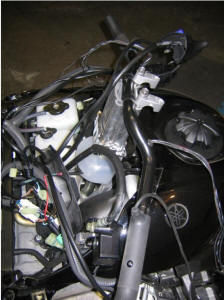 5) Being very careful pull the bars through the un hooked controls taking not to what wires go above and below the bars.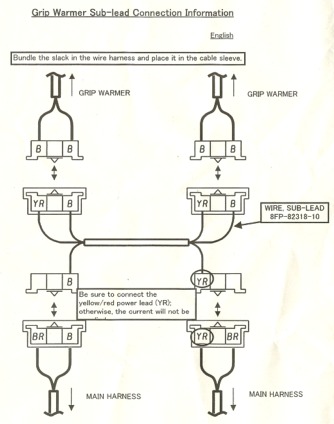 Follow this sequence in reverse and install the new bars. Plug in the wires per the provided paperwork that came with the bars. Before final tightening of riser bolts be sure to set your bars to riding position.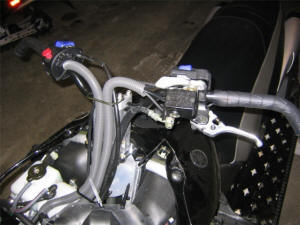 You have now completed you 07 bar install. Enjoy.
Totallyamaha is not responsible for any damages that these modifications may cause to your vehicle; any modifications are your responsibility if you choose to do so. We are providing information ONLY. Some of these modifications may VOID your warranty and that is your responsibility to look into. The Totallyamaha users have passed along most of the information found on this site. If you have any questions or concerns about anything on this site talk to your dealer before using any of the information. Totallyamaha will not be liable for any damages or personal injury from any modification performed from this site.