<![if !vml]><![endif]>
YAMAHA PHAZER

SPORT PACKAGE
By: Hygear Suspension
<![if !vml]>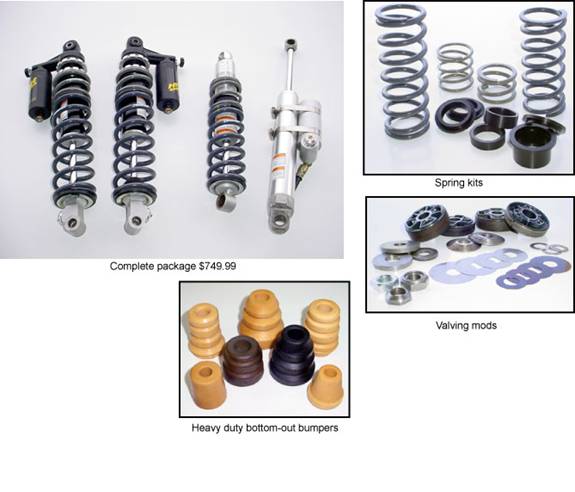 <![endif]>
HYGEAR Site Data: Recommended for riders looking for increased overall handling performance. This package is also good for riders that can't get their ride height set with stock springs. The valving will help stiffen the ride and set rebound to the increased spring rates needed to handle additional weight and aggressive riding.
Includes shock rebuilds, service kits, re-valves front and rear. Also includes dual rate spring kits for front and rear. Includes Air Control System for Fox Float Shocks (if required). Remote reservoirs and other products available as options. The Sport package is designed for specific riding application such as trail or X/C.
The valving and spring mods are dependent on rider weight and type of riding. This is a good option for those looking to push there vehicles performance beyond the stock capabilities. This package will give you more adjustment over the mass produced OEM setups.
Tested FX Phazer – 1st generation kit, Hygear straight rate center rear spring change, and Dual Rate/Dual Spring GYTR front piggy back shocks and re-valving.
See Hygear for pricing.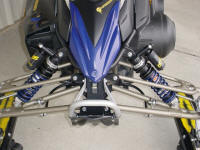 Ride Review:
Over all appearance and product quality of the Sports Package was excellent. This particular sled suspension overall handles trail conditions best with rider weight off of the seat. Speculating Yamaha's design intent, the FX Phazer provides an entry level sled that could be driven similar to a snow cross style by being able to stand through most of the rough trail conditions. With out any adjustments, the Sport Package was a night and day difference from stock calibration. The stutter bumps were very firm but predictable. In the 2 to 3 foot moguls are where the fun factor of this package really shined, launching from crest to crest was flat and fun under complete control. After some fine tuning on the sport package, we improved the handling characteristics from corner to corner. Adjusting your riding style to be more like an ATV will really affect how the sled handles. Hammering through long deep rollers is a major blast with such a light machine with this new sport package.
In conclusion, we have yet to find the perfect set up and will continue through the 2007-2008 season. The pre set up package from Hygear per your weight and riding style is fairly close, you will still need a few hours of tweaking. The ability to make adjustment out on the trail for varying conditions is very limited but will still give you many hours of pleasurable trail riding. The value in this kit is well worth the purchase.
One last thing is that at the time of testing there has been some great advancements in the suspension kits that are now provided for the Phazer. So please see Hygear for more info.
Totallyamaha is not responsible for any damages that these modifications may cause to your vehicle; any modifications are your responsibility if you choose to do so. We are providing information ONLY. Some of these modifications may VOID your warranty and that is your responsibility to look into. The Totallyamaha users have passed along most of the information found on this site. If you have any questions or concerns about anything on this site talk to your dealer before using any of the information. Totallyamaha will not be liable for any damages or personal injury from any modification performed from this site.