<![if !vml]>

<![endif]>
Yamaha Attack GT TRAIL PRO PACKAGE
By: Hygear Suspension
<![if !vml]>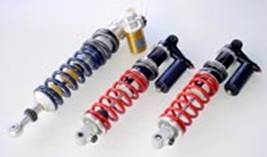 <![endif]>
HYGEAR Site Data: TRAIL PRO PACKAGE GT, ER and RTX models
The Trail Pro package is designed to get the most performance from your OEM suspension. This package is intended for the most aggressive recreational riding and racing.
Includes shock rebuilds, service kits, re-valves front and rear. Also includes dual rate spring kits for front and rear and reservoir kits depending on model.
The Trail Pro package is the best of the best. It includes the latest improvements available for your OEM suspension. Trail Pro packages are designed for extreme riding conditions and for those wanting to push their vehicle to its limit or who simply want the best suspension available.
Tested Attack GT - electronic Ohlins rear and GYTR front piggy back shocks. Includes HY-LO valves for front GYTR shocks. See Hygear for pricing.
Ride Review:
Over all appearance and product quality of the Trail Pro Kit is superb with one stipulation. We would like to see more user friendly adjustment for the high/low speed controls on the front GYT-R shocks. Currently you need a flat blade screwdriver to fine tune them on the trail. Hygear removes the standard compression knob to allow for this high/low speed adjustment.
Out on the trail the pro package definitely was noticeable in the stutter bumps as it was quite a bit stiffer. In the 2 to 3 foot moguls the Hygear package met and at times exceeded our expectations based on how the stock sled would handle these conditions. The suspension overall handles trail conditions best with rider weight on the seat and we are sure that was the design intent of Yamaha, to provide a sit down trail cruiser with the ability to stand easily if needed. After fine tuning the shock package, we made the ride quite a bit more plush with less feedback into the bars. Going through long deep rollers is where the heavy dual rate springs and anti-bottom valving shined. With our test rider at 250 lb, we could literally drive over washed out bridge crossings with ease. Grabbing a handful of throttle and with a smile from ear to ear you could not find a happier place then ripping down the trail with this package.
In conclusion, this kit will come pre set up to rider weight and riding style. You will still need a few hours of tweaking. The ability to make adjustment out on the trail for varying conditions will give you many hours of pleasurable trail riding. This is a great kit and well worth the money spent.
Totallyamaha is not responsible for any damages that these modifications may cause to your vehicle; any modifications are your responsibility if you choose to do so. We are providing information ONLY. Some of these modifications may VOID your warranty and that is your responsibility to look into. The Totallyamaha users have passed along most of the information found on this site. If you have any questions or concerns about anything on this site talk to your dealer before using any of the information. Totallyamaha will not be liable for any damages or personal injury from any modification performed from this site.