Holtzman Engineering Nitrous 40HP
Exclusively distributed by Straightline Performance
Article By: Randy G
Over all Products info from Straightline Performance:
This kit includes the patented nitrous injector nozzle and the patented piggy back solenoid. The technology in the patented nitrous nozzle provides constant and consistent nitrous flow no matter what bottle pressure you are running. The Yamaha 4 stroke kit for the Apex/Attack is a simple yet effective bolt on. The fuel injection nitrous kits DO NOT REQUIRE A FUEL PROGRAMMER TO RUN. Kit comes complete with all necessary mounting brackets, 40hp nitrous nozzle, waterproof button, patented solenoid, and detailed instructions. This is the safest and easiest kit to install with the most reliable nitrous technology available today.
Our Review
When we 1st tested this system we had our blinders on and were very subjective to any gains. Once out on the lake it was evident that we were extremely mistaken. This kit works and works well as long as it's installed correctly. We opted to have BaySide Motorsports in Green Bay do the install so we were 100% sure it was up to par. Bayside Motorsports is an authorized installer and dealer of Straightline products. The install for the most part was very clean, easy to adjust and fine tune as well as simple and quick to switch bottles. One feature that was added was the ability to arm and disarm the system. This is a great idea for 2 reasons: one is that you know when you are armed and ready to rock and the other is for safety knowing it is off and will not be bumped accidently. Even with the great idea of the added switch after about 400 miles the connection was lost. We found that the connector broke and maybe it should have been installed with a weather proof version that self seals. Also, the installation of the Nitrous button could have been cleaner. There was glue residue pushing out from the mount and after about 150 miles it fell off and had to be reapplied. Maybe in this case the button chosen could have been drilled and mounted from behind the hand control on the left side.
Rocker Arming Switch on Left and Ignition Button on right.
Even though the bottle was very quick and easy to change and turn on, we felt it would be ideal to have a gauge to know how much of a charge is left in the bottle... I guess it would be nice to save face and not run out of juice on that one last good pull.
Bottle installed in front nose cone and inside air box.
During our initial runs on the lake we found that added weight in the clutch is a must in order for us to stay off the rev limiter but overall a good clutch kit will really enhance the out come of this system. Prior to our machine being dialed in and under hard packed conditions with good traction, we experienced a gain of 10 MPH +/- in a 1/2 mile run on the bottle. After some further tuning on the sled clutching and fuel delivery of the Nitrous we saw a change from 10,600 rpm to 10,800 rpm and at top speed 11,100 rpm to 11,200 rpm just before the rev limiter and it would pull like a freight train.
Inside air box you can see the fogging nozzle in the middle of the air box and the extra fuel lines to each intake.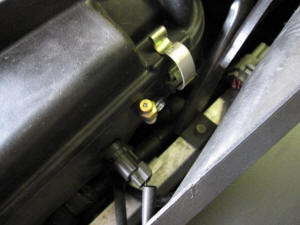 Extra Fuel control on the side of the air box.
We ran our Nitrous System against a Supercharged Apex with 8lbs of boost and it would hold its own really well until we ran out of Nitrous. We made quite a few passes before we decided it was a lost cause to try and beat a sled with that much boost…. So we took our new found power up against a 5lb Boosted sled. Our Nitrous charged sled could easily pull away from it on every run. If we would hole shot the Nitrous against the 5lb boosted sled we could jump ahead of it about 5 sled lengths. Overall with the small amount of testing we were very pleased with our results.
On a side note; a good clutch kit with less belt slippage gave us even more gains.... but more on that later.
Please check back this next season and we will have more data and more things to share on this kit. To order this kit click here!!
Any questions feel free to email the Webmaster.
Totallyamaha is not responsible for any damages that these modifications may cause to your vehicle; any modifications are your responsibility if you choose to do so. We are providing information ONLY. Some of these modifications may VOID your warranty and that is your responsibility to look into. The Totallyamaha users have passed along most of the information found on this site. If you have any questions or concerns about anything on this site talk to your dealer before using any of the information. Totallyamaha will not be liable for any damages or personal injury from any modification performed from this site.