Updated 6/13/00 see bottom of page
Derek Awesome Ride
click on photos to enlarge
Photos of Frisby Ridge in Revelstoke B.C.
Derek's sled is a 2000 700 Mountain Max and he is from Weslock, Alberta, Canada. He did some fine tuning to
the suspension other than that its pretty much stock.. This sled worked great right out of the
box so he decided to ride it stock for the first season. "There was no stock
700 RMK that could touch it on the hills all season" said Derek
Up and coming modifications : drop and roll C/W new light weight tunnel, pipes,
clutching , new drivers and other goodies to install as well. He has been riding Exciters for the last number of years, because he felt that MM's were not up to par, until know. He trailers along a with his current MM a "tweaked for the mountains" Exciter, as a spare sled. This sled is commonly known as the "Weapon" by all
the guys in his group. It has twin PSI pipes, 93 SX engine and a 2" x 136"
Camo track under it. "It works pretty good" said Derek. "Everybody laughs at it but this year
alone there has been a Summit rider and two Polaris riders on it for a
weekend after they blew their own engines".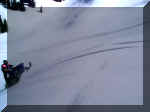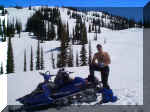 click on photos to enlarge

Revelstoke B.C.

NEW---Below is a email from Derek, it sounds so cool I had to post it. Wouldn't you love to be in his shoes Mountain Riding, Enjoy.

Hi Mr_Sled,

Well we took our June trip to Revy and it was just great. There was just

a small group of us and a few of the locals out there. We were still able to drive to the snow. (about 11 Kilometers) The riding was just excellent on the top. The temps were around 25'C and the sun was bright. We Rode about 10-12 hrs all three days. Totally out of fuel every day. Major sunburn as well. My sled ran just perfectly. The only tuning I did was remove the hood. That really cleaned up the midrange. (way easier than jetting....lol) We were catching some big air up there as you can just climb forever. On the way home I dropped my MM off in Salmon Arm B.C. for the drop and roll and one piece tunnel. While It's there they are going to install external drivers, do some gearing, put on a pile of light weight front end parts. It should be ready to pick up on the 1st of July. Then it comes home for the pipes, clutching and a few other little mods that should make my grin even bigger. I just love this sled. It has performed flawlessly since last fall. (except for when it was on its hood...lol) The weapon got left behind this trip as we could only take the 2 place trailer up the mountain. There just is not enough room to turn around the 4 place. I did not think a trailer picture would do the old weapon justice so if you don't mind waiting a few months I'm sure there will be another chance to get a good shot of it in action. I am sending you a couple of pics from our trip. If you like them you can put them on the page. If we manage to get up there again this summer I will let you know.

Thanks Mr_Sled, and good sledding!

Derek


Totallyamaha thanks Derek for his great comments and interest in our website and we hope he keeps the the great pics and info coming. We are still very interested in seeing his Mountain Weapon and his Modifications after completion.