Flyng V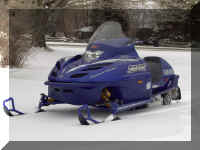 click on pic above
Nickname: Flyng V
Real Name: Vince
Sled: 2000 SRX700 w/ Ohlins
Mod's/Add on's:
Maxxium Xfer Rods & Marginal Snow Wheels, Bender Silencer, Heel Clickers, 144 1.10" studs, Yamaha Medium Windshield, Running Board
Inserts, Sno-Slips, and a Blue Dot in the tailight.

"This is my second SRX. I owned a 98 SRX600 prior to this sled and upgraded last year. I owned a 600 Vmax prior to the 98. We ride mostly in the U.P. & WI Door County".
We at Totallyamaha thank Flying V for sending us information on his sled and look forward to seeing more from him.